Powered by Adventure
As you move on your adventures, the internal rotor gently rocks back and forth, transferring energy to the watch, winding the precision Swiss-made gears and providing a consistent and reliable energy source.
Below you'll find our guides to sizing and adjusting the watch bracelet, setting the time on your mechanical watch, adjusting the date and general day-to-day care to keep your watch in great condition for a lifetime of adventures.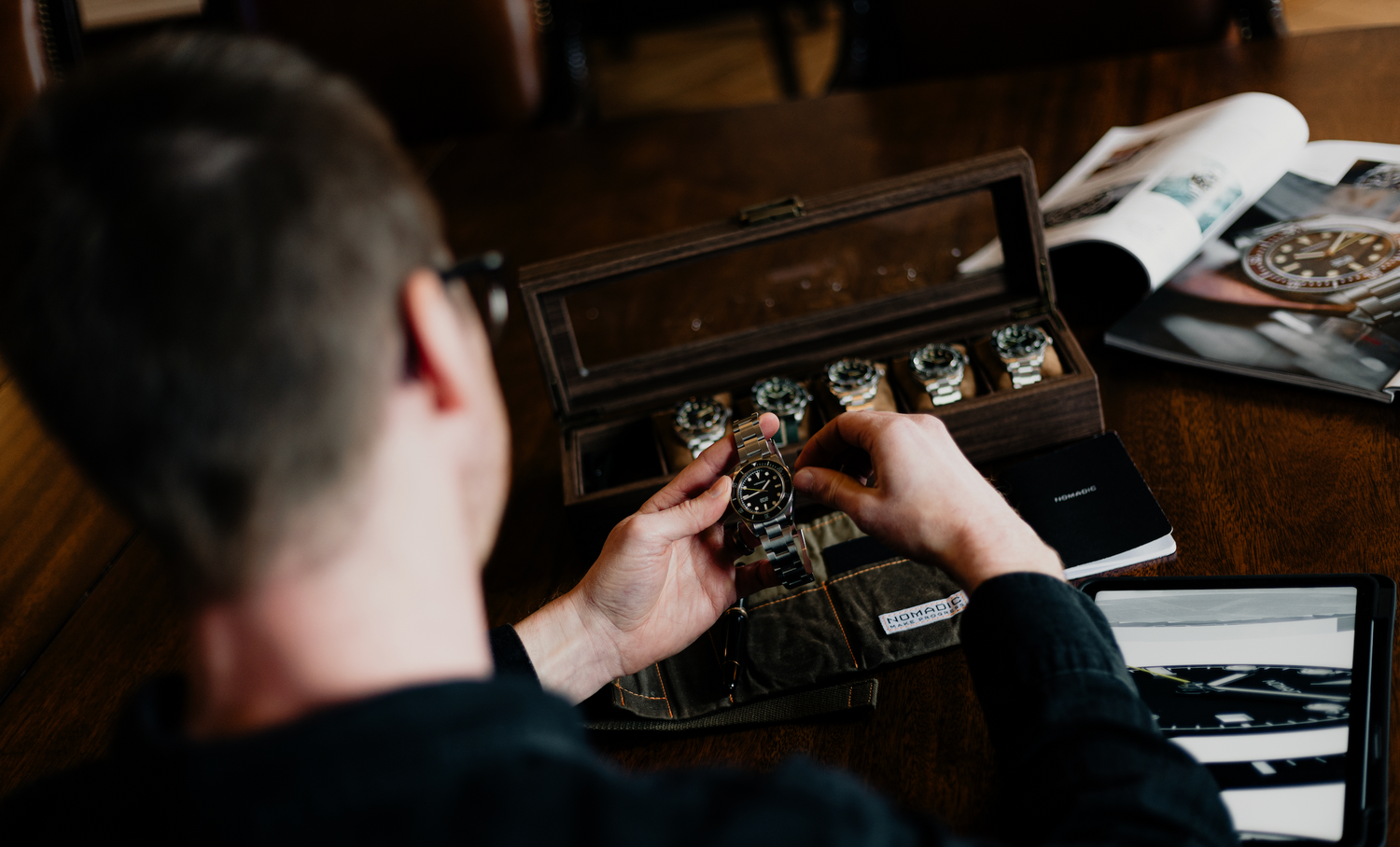 Getting Started
A mechanical watch is a wonderfully magical piece of engineering, designed to last a lifetime of adventures.
In this video guide, we'll cover the basics of how to manually wind the watch, set the time and date, as well as screw down the crown properly to ensure the watch is sealed.
Watch Video Guide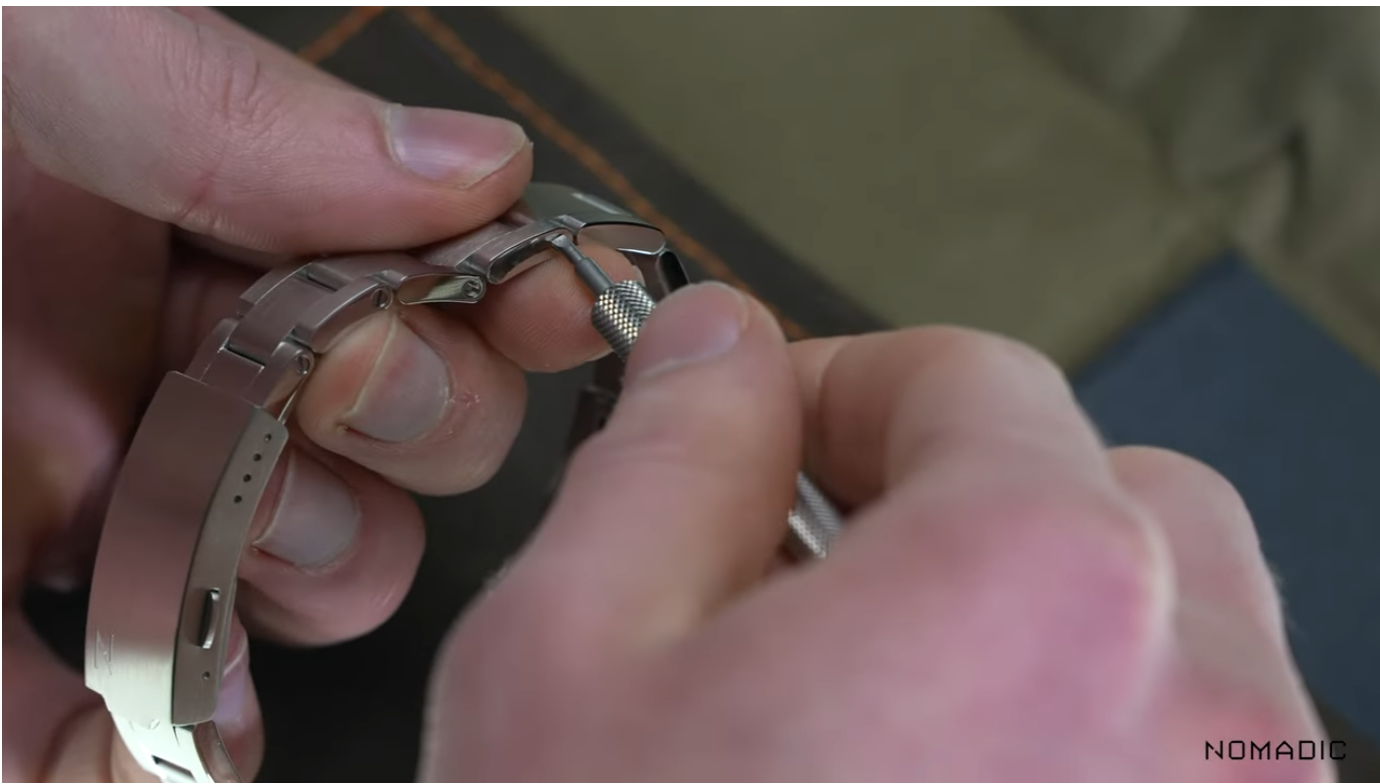 Sizing the Bracelet
Finding a good fit is one of the most important factors in the comfort of your new watch.
Every Nomadic watch comes ready for adventure including all the tools you need to adjust the bracelet quickly, easily and safely at home.
Adjusting the bracelet can be a little fiddly, so take your time and follow along with the video below. Reach out to our team or a reputable local jeweller, if you need any assistance.
Watch Video Guide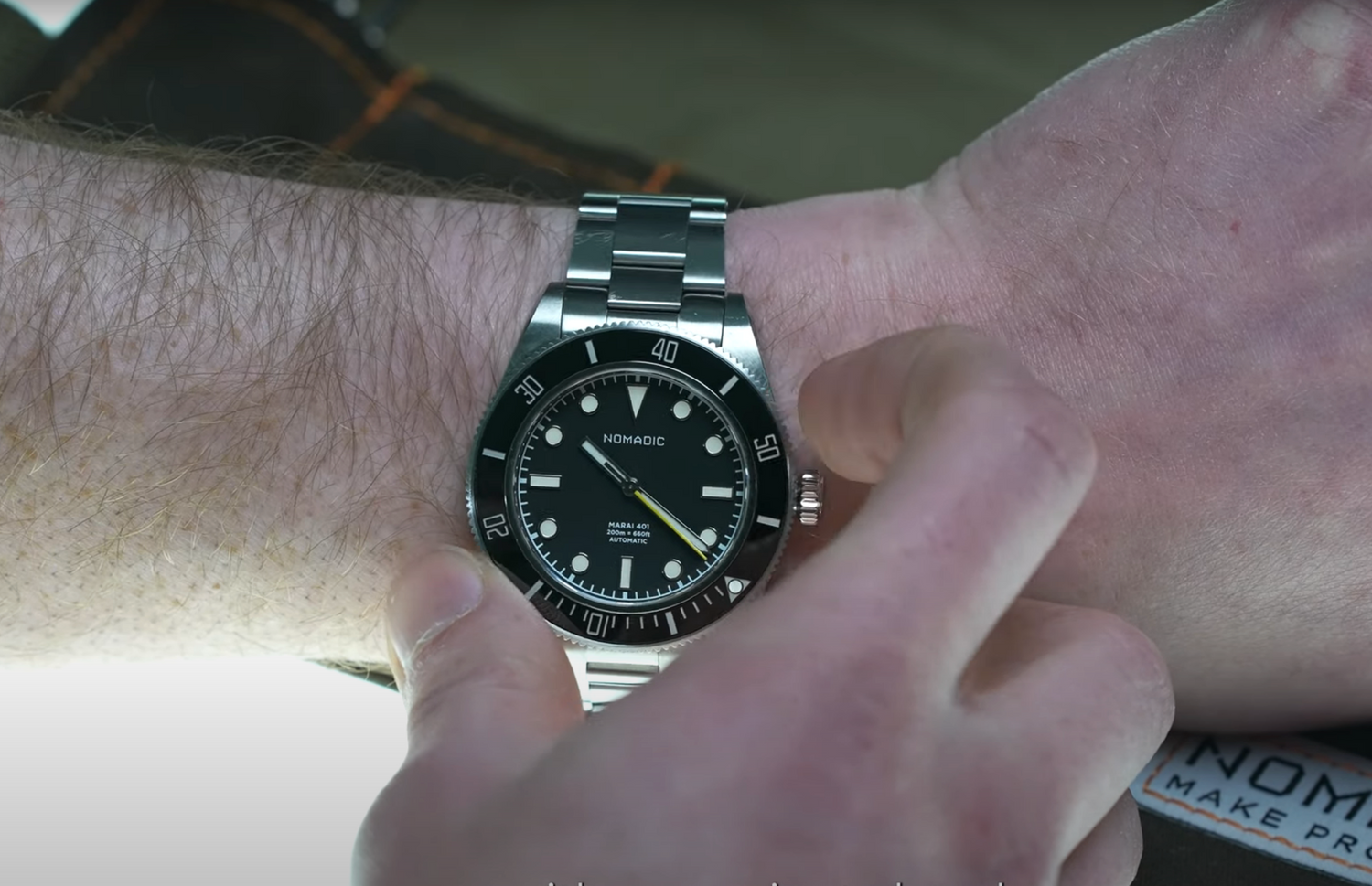 Understanding Bezel Basics
The bezel on the outside of your watch is more than just a fidget spinner (although it's good for that too).
A bezel is traditionally used by divers as an analogue timer to monitor how long they have been underwater, and thus how much oxygen is left in their scuba tank.
It's beauty lies in it's simplicity and ease of operation even with freezing cold hands or through gloves.
There are many other uses too, including navigation, which we will cover in a later guide
Watch Video Guide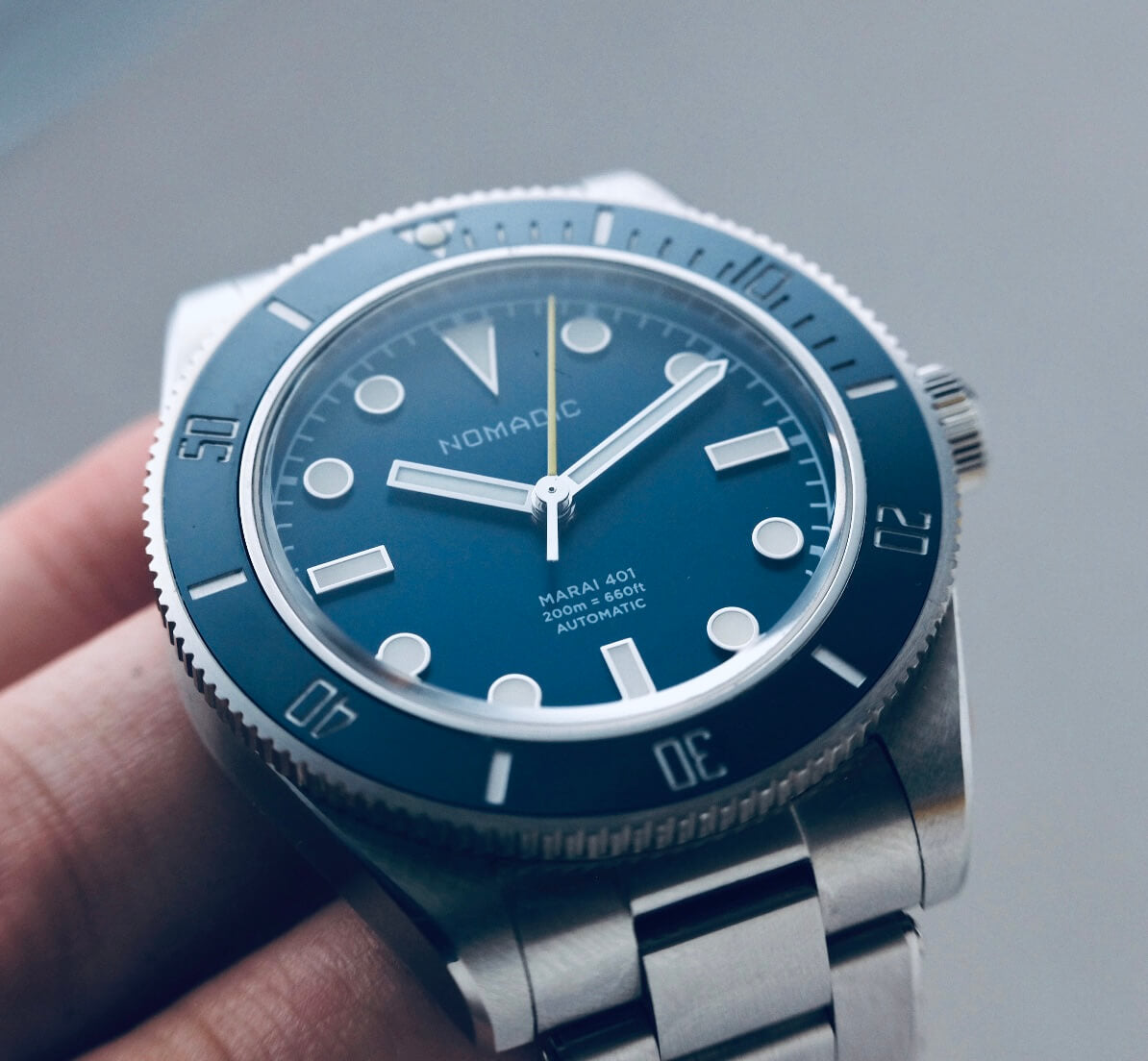 Day-to-day care
Due to Nomadic's robust design, your watch requires very little day-to-day care. Cleaning it occasionally with a microfibre cloth will help keep the watch looking great.

For a more thorough clean, you can also wash the watch and bracelet in warm soapy water with a soft brush. Before cleaning, always ensure that the winding crown is completely screwed down against the case to guarantee waterproofness.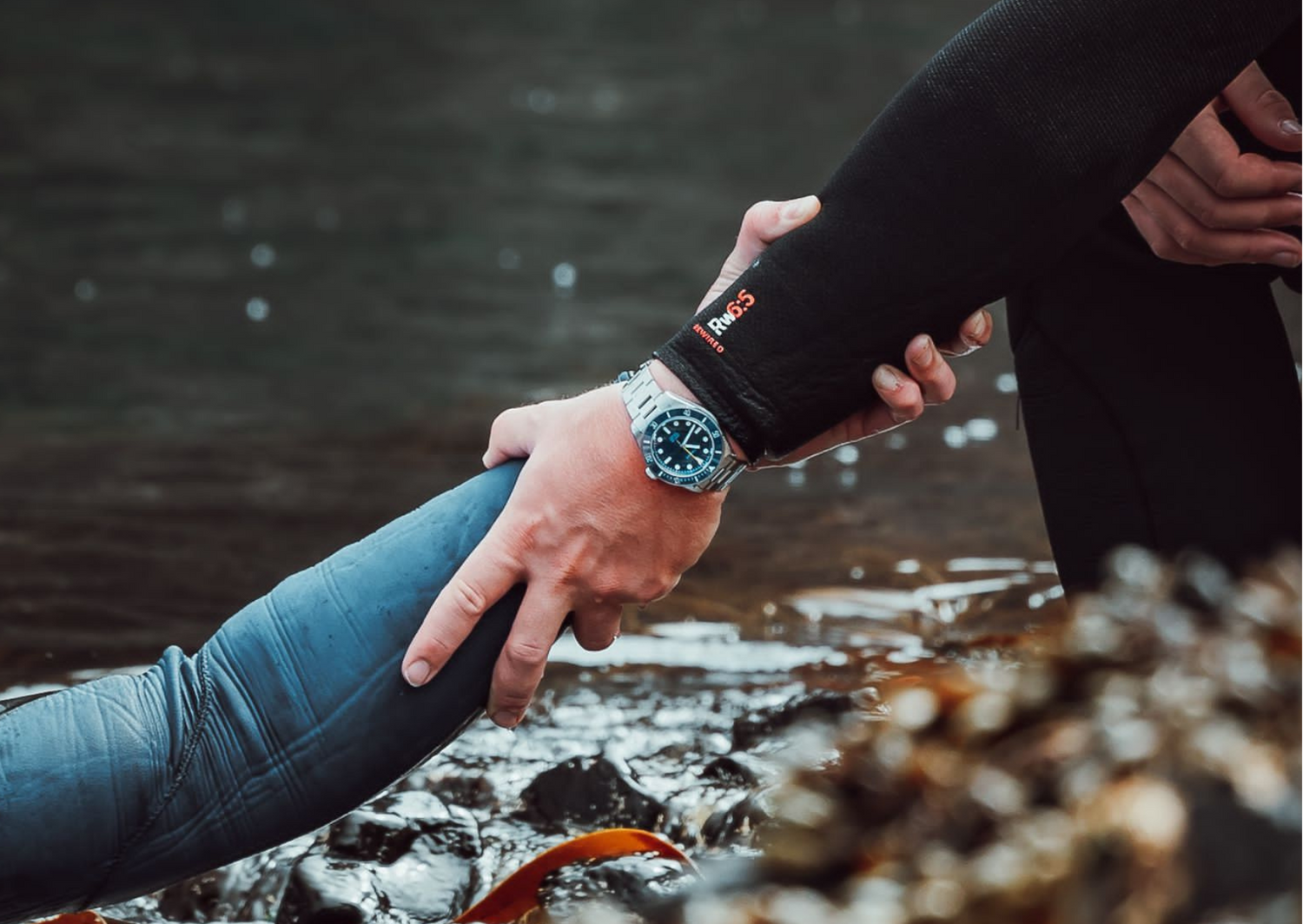 Après sea
A Nomadic watch is in its element underwater, even in the salty sea. After being in the sea, we recommend you rinse your watch with fresh water to get rid of any salt
and sand build ups. Simply wearing your watch in the shower should be more than enough.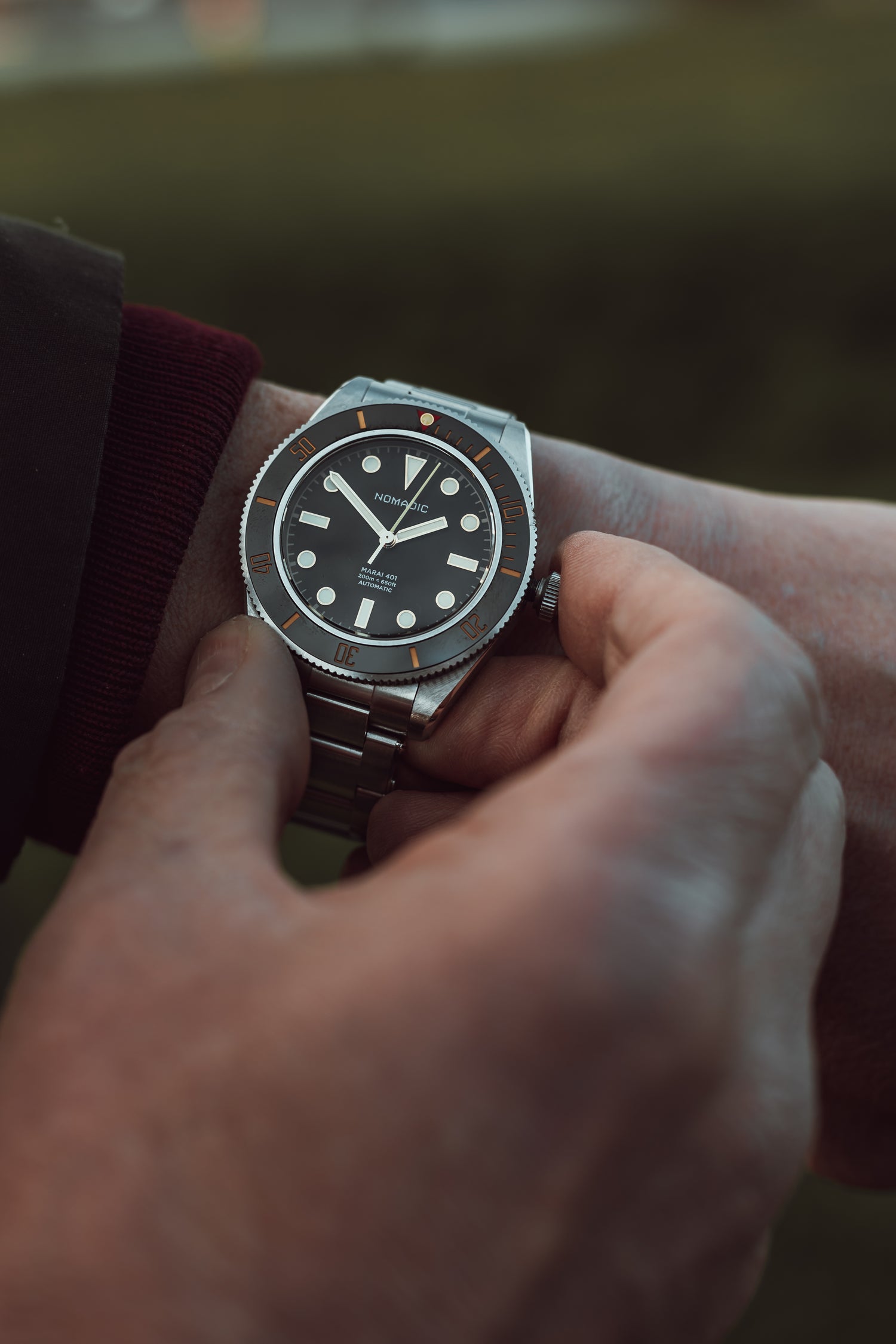 Sealed like a sub
The sturdy stainless-steel case provides the watch movement with optimal protection against shocks, and makes it completely dustproof and waterproof, so you can wear it on any adventure.
To maintain waterproofness, the case needs to be properly sealed. The crown of your Nomadic screws down tightly to create a hermetic seal like the hatch of a submarine.
When you reset the time, date or wind the watch manually, it is extremely important to screw down the crown until it can't turn any further.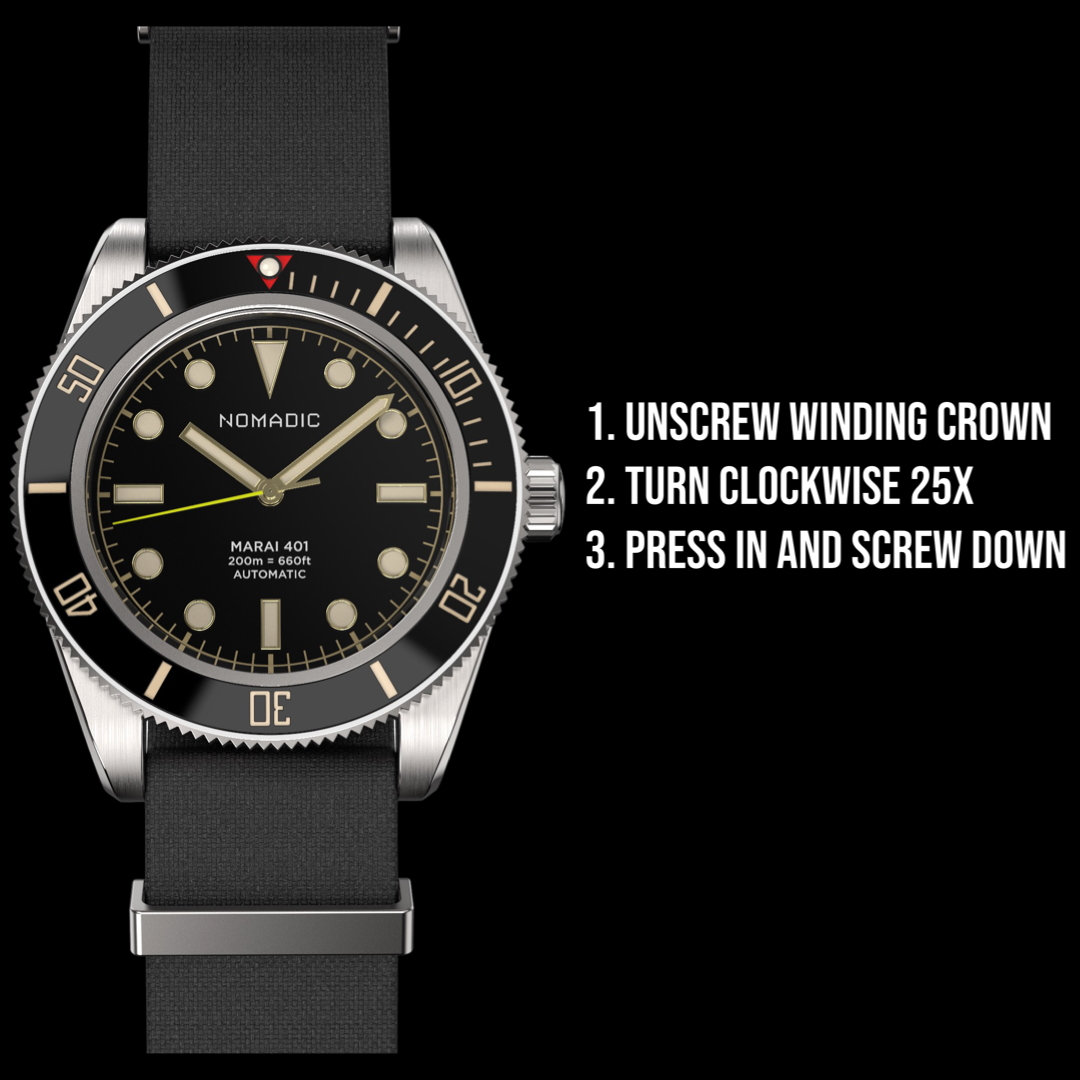 Manual Winding
Before being worn for the first time, or if it has stopped, a Nomadic watch must be wound manually to function precisely.
To manually wind the watch, first unscrew the winding crown, then turn it clockwise. 25 turns should be sufficient for partial winding.
Carefully press inwards and screw the crown back down against the case until it can't turn anymore, to ensure waterproofness. The watch will then continue to be wound automatically as it is worn on your wrist.
Setting the time
Nomadic watches can be set by unscrewing the crown and pulling it out to the second notch. The seconds hand will stop, allowing you to set the time.
Carefully press inwards and screw the crown back down against the case until it can't turn anymore, to ensure waterproofness.